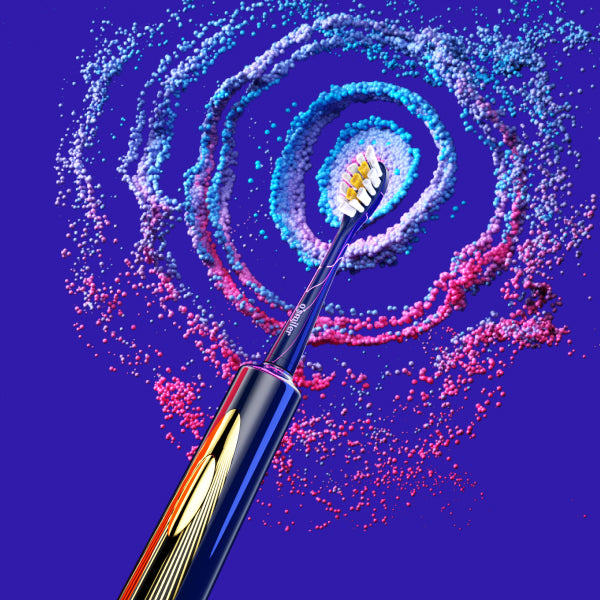 Are you bored when brushing your teeth?
Are you tired of the noise of an electric toothbrush?
Are you looking for toothbrushes that play music?
Osmiler sonic electric toothbrush with music is both a stereo and a musical instrument, allowing wonderful melodies and dynamic rhythms to glide between your teeth, bringing excitement throughout the day.
Osmiler electric toothbrush has been designed to help people relax while brushing their teeth. It features soothing sounds that will help you focus on your oral hygiene routine.
First Electric Toothbrush with Music
Yes, Osmiler electric toothbrush is a musical revolution that is beyond your imagination, as the world's first electric sonic toothbrush that can listen to music.
This toothbrush has been designed to help you relax and enjoy some quality time with yourself when you're improving your own oral health at the same time.
From now on, you won't need to take a speaker with you while traveling around the world. Wherever you go, you can still keep up with your morning and night oral hygiene routine with your favorite music.  You can play music in a resort, a hotel room, and even a cabin in the forest.
This toothbrush frees the limit of you brushing your teeth and listening to music.
Bone conduction is the conduction of sound to the inner ear primarily through the bones of the skull, allowing the hearer to perceive audio content without blocking the ear canal. It is widely used in headphones and hearing aids.
Now, Osmiler has applied this technology to electric toothbrush!
As a new invention, Osmiler Swing is not only the first electric sonic toothbrush with music; it is also the first using bone conduction technology in the world.
On the basis of benefiting oral health, it gives you a more cheerful and contented experience of brushing your teeth.
The electric toothbrush incorporates the latest bone conduction technology to get rid of the tedious daily brushing time and allow your teeth and whole body to enjoy music.
All Types of Electric Toothbrush Music Played
It is easy to use the electric toothbrush with music.
You can upload built-in music to the toothbrush via Bluetooth or PC.
The toothbrush also supports any types of music apps, Apple Music, Spotify, Amazon Music, you name it!
Whether you're a rock fan, jazz fan or you're into other kinds of music, just upload and enjoy the relaxation the toothbrush brings you. On top of that, you can share your favorite music with other people to build your own music community.
But we're sure this music community will be special because people in here also care about their oral health, and that's Osmiler's goal – bring health and joy together.
3 Modes of Operation
In addition to being driven by music, the sonic toothbrush can also use classic vibrating effects. The electric toothbrush has three built-in classic vibrating modes.
You can choose soft, standard, or strong mode to accommodate to your own situation.
Don't worry if you bleed a little when you use the toothbrush the first time, your gum will get used it because it ultimately loves to be massaged.  Gum massage is essential to the blood flow and overall health.
Soft-care Designed Brush Head
Omsilier's electric brush head uses sonic technology to clean your teeth effectively. It vibrates at 35,280 times per minute, which helps remove plaque and tartar from your teeth.
Omsilier's electric brush head also includes round-top bristles with very soft materials that gently massage your gums as well. You won't have to experience any discomfort when brushing.
The toothbrush not only brings happiness but also brings a more comfortable way of using experience with the features, including:
The rounded top
Gently clean your teeth to reduce irritation to the gums
W-shaped three-dimensional cutting
The contact surface is more extensive, easy to deeply clean blind area.
Imported Dupont bristles
Safe and harmless, Strong Cleaning Effect
FDA Approved
Osmiler electric toothbrush is FDA approved, as well as with certificates below:
Guarantees
Fast Shipping. All orders ship within 2-3 business days.
30-Day Refund and Return. We accept returns and exchanges for up to 30 days.
Year Warranty. Warranty period is 1 year from the date of purchase.
So, what are you waiting for?
Come to join us with Osmiler electric toothbrush!