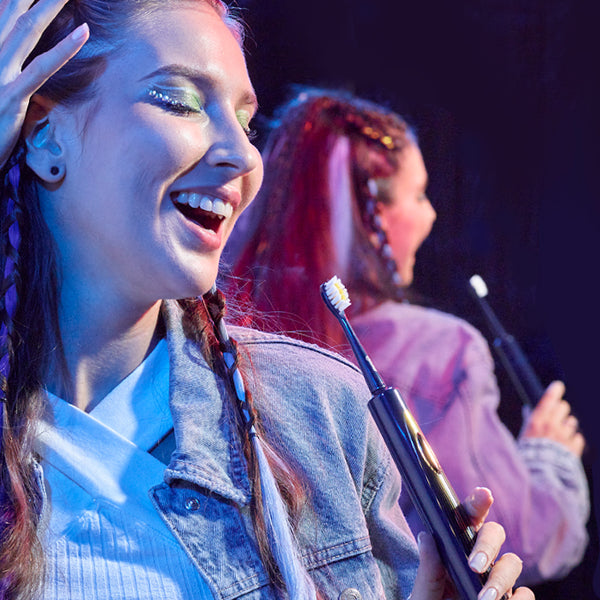 We all know the importance of oral hygiene and we want to follow what dentist tells us to do—use electric toothbrush, but sometimes brushing can become tedious, and now you'll enjoy your routine more with Osmiler electric toothbrush.
Not only because it's the first ever musical electric toothbrush, but also it is on sale for 30% off!
Today, Osmiler would like to take you to know more about electric toothbrush and Osmiler.
What is electric toothbrush?
Electric toothbrushes work by vibrating at high speeds to remove plaque and debris from teeth. There are two main types of electric toothbrushes: sonic and ultrasonic. Sonic brushes use sound waves to clean teeth while ultrasonic brushes use ultrasound waves.
Sonic brushes work by vibrating at high frequencies. This creates tiny water droplets that break up plaque and debris. Ultrasonic brushes use ultrasound waves to clean teeth. These waves cause cavitation bubbles to form, which help remove bacteria and other particles from the surface of the teeth.
The best thing about electric brushes is that they help prevent plaque buildup. Plaque is a sticky film that forms on teeth and causes bad breath and gum disease. Electric brushes use pulsating motion to remove plaque from between teeth and around the gums.
However, Osmiler electric toothbrush is unique and different from normal ones.
What is Osmiler electric toothbrush? Why is it different from other ones?
Osmiler Swing is the first electric sonic toothbrush using bone conduction technology. On the basic of benefiting the oral health, it gives you a more cheerful and contented experience of brushing your teeth.
Osmiler sonic toothbrush incorporates the latest bone conduction technology to get rid of the tedious daily brushing time and allow your teeth and whole body to enjoy music.
How does conduction technology work on Osmiler electric toothbrush?
Osmiler electric toothbrush is easy to use – you just need to pick a suited vibrating mode, like how you normally use other electric toothbrushes, then turn on the music and enjoy the experience!
How to listen to music with Osmiler electric toothbrush?
Osmiler electric toothbrush is a musical revolution that is beyond your imagination, as the world's first electric sonic toothbrush that can listen to music.
This toothbrush has been designed to help you relax and enjoy some quality time with yourself when you're improving your own oral health at the same time.
Simply upload music to toothbrush via Bluetooth or PC, and enjoy your brushing experience!
Osmiler electric toothbrush is on sale for 30% off
Price
$69 $49 Now with 30% off
What can you get with the price?
Soft head
Omsilier's electric brush head uses sonic technology to clean your teeth effectively. It vibrates at 35,280 times per minute, which helps remove plaque and tartar from your teeth.
Omsilier's electric brush head also includes round-top bristles with very soft materials that gently massage your gums as well. You won't have to experience any discomfort when brushing.
The toothbrush not only brings happiness but also brings a more comfortable way of using experience with the features, including:
The rounded top
Gently clean your teeth to reduce irritation to the gums
W-shaped three-dimensional cutting
The contact surface is more extensive, easy to deeply clean blind area.
Imported Dupont bristles
Safe and harmless, Strong Cleaning Effect
In addition to being driven by music, the sonic toothbrush can also use classic vibrating effects. The electric toothbrush has three built-in classic vibrating modes.
You can choose soft, standard, or strong mode to accommodate to your own situation.
What is in the package?
In the light and handy box, Osmiler includes the following items:
1 PC of Osmiler Sonic Wave Electric Toothbrush
2PCs of Brush Head
1PC of USB Cable
1PC of Brush Head Cover
What guarantees does it come with?
Fast Shipping. All orders ship within 2-3 business days.
30-Day Refund and Return. We accept returns and exchanges for up to 30 days.
Year Warranty. Warranty period is 1 year from the date of purchase.
Are you tired of the boring brushing routine? Welcome to the world of Osmiler!
Let's keep oral hygiene and entertainment together!